AFTER 20 YEARS, THE MATAURA HAS BEEN UPGRADED TO A NEW AND IMPROVED VESSEL!
Bigger, faster, and more comfortable...
Completely Customized 42' Wesmac
New 800hp Caterpillar 3406E Diesel Engine
Latest Top of the Line Electronics, Fishing Gear, and Safety Equipment
Designed for Your Ultimate Comfort and Fishing Satisfaction.
Spend less time getting to the fishing grounds and more time fishing in the new, faster Mataura!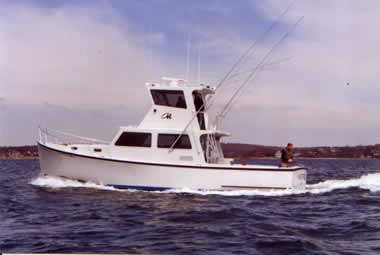 The new Mataura trolling Ram Island reef
After 20 years on the same boat, Captain Tom realized that it was time to make a change. It was a good ship, but it was time to upgrade the business to an improved vessel. So, in November of 1998, he purchased an empty hull from Wesmac in Surry, Maine. Since then, with the help of GP Boat Company and Naval Architect Bob Wilkinson, Captain Tom has worked to turn that empty hull into a beautiful fishing boat. Finally, almost a year and a half later, the boat is completed and in the water. For those of you who have gone out with Captain Tom in the past, you will find a vast improvement over the old Mataura with more spaciousness, comfort, and speed. For those who have not been out on the Mataura, what you will find will delight you. Here is a detailed description of the boat.
WESMAC 42' Hull- The Wesmac 42' hull has quickly gained recognition for its ability to withstand heavy seas with little movement, even at high speeds. While the old Mataura would slap and sway in rough seas, the new Mataura will hold steady and charge through the waves with little pounding. Check out the Wesmac site for more information on this hull design.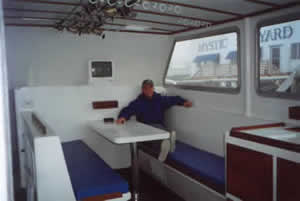 COMFORTABLE INTERIOR- The interior of the new Mataura is spacious, clean, and comfortable with ample seating and sleeping areas (for overnight and canyon trips). Furthermore, the new Mataura has some new benefits including a full galley, bathroom with shower and sink, TV/VCR, stereo, heat, air conditioning, and the best sound insulation available for a quiet ride. Everything you need and more for a great day on the water…
800hp CATERPILLAR 3406E Engine- This powerful Caterpillar Engine will make the Mataura the fastest boat in the charter fleet- allowing it to travel speeds of up to 30mph. This increase in speed (from 20mph on the old Mataura) will lend to more time fishing, and less time traveling to the fishing grounds. Furthermore, greater speed creates a larger range of fishing. Fish that were inaccessible last year will be reachable this year.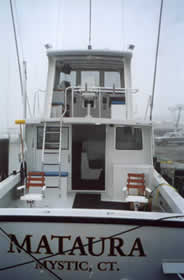 SPACIOUS AND EFFICIENT COCKPIT- Ever hooked up to 6 tuna at once? Well, when it happens (and it does), you need all the space you can get. If there is one thing that a fishing boat needs, it is space to move around when you are fishing. Those who went out on the old Mataura always commented on and appreciated the size of its cockpit. The same holds true on the new Mataura. With its 14'6" beam, it provides plenty of room for even the craziest and most hectic fishing. Furthermore, with its large, plentiful insulated wells, freezer, and ice box, and three comfortable Lee fighting chairs it is fully equipped for any situation that might arise over the course of the day.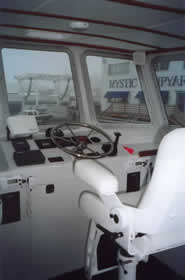 THE LATEST EQUIPMENT AVAILABLE-
All the best electronics for both fishing and navigating including Northstar 951 GPS, American Pioneer color fish finder, Loran, Raytheon radar and autopilot, and more.
All top of the line fishing equipment including Penn International reels, J&B Tackle custom made rods, Berkeley Trilene and Jinkai fishing line, and much, much more.
The best in Coast Guard required safety gear including type-1 PFDs for people of all sizes, life raft, EPIRB, etc.

Come out with us on the brand new Mataura- you will not be disappointed.