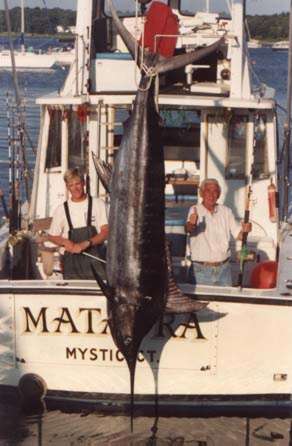 When fighting a big fish, you should not have to worry about your gear failing on you. We use the best fishing equipment available because we know the importance of being able to rely upon your gear.
REELS- our reels are the best available for saltwater sport fishing- Penn Internationals. Recognizable by their shiny, gold surface, they look good and perform even better. We are one of the only boats that use these Penn Internationals for both inshore and offshore fishing. Our collection includes 12Ts, 30Ts, 50Ws, 80STs, and 130STs.
RODS- All our rods are custom made and maintained by J&B Tackle with fiberglass blanks and the most durable guides and butts available.
LINE- For line and leaders, we use monofilament, Dacron, fluorocarbon, spider wire, stainless steel, and Monel. All are of the highest quality brand names- Berkeley, Jinkai, Momoi, Seaguar, Malin and more.
TACKLE- All other hooks, lures, and other tackle are also the most trusted names on the market. From Mustad and Gamakatsu hooks to Zuker, Seven Strand, and Finest Kind lures, we use the stuff that works.