Inshore Types of Fish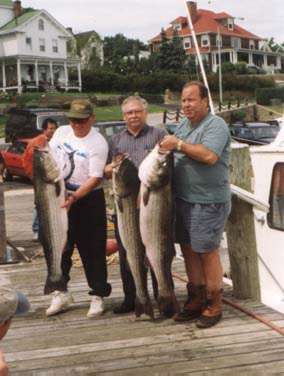 Tom, Vic and Felix with these 51, 49, and 45 pounders all caught on one trip in July 1998
STRIPED BASS- Recent years have seen phenomenal and consistent fishing for each of these three species, but Striped Bass fishing has been particularly good. After a near extinction in the 1980s a closure on fishing for Striped Bass ensued. The result has been large numbers, and better fishing than has been seen in years. Every year seems to get better, and Capt. Tom's knowledge of the local waters and technique makes him one of the best at finding the big stripers. Customers aboard the Mataura consistently go home with their legal limit (2 fish/person over 30"), and it was not uncommon last year to fill the live wells with Striped Bass in the 30-pound range. In fact, many 40 to 50 pounders were caught. Anyone who has felt one of these fat fish hit and seen them peel line off of a reel knows why Stripers are one of the most popular game fish around.
BLUEFISH- while much of New England has complained about a shortage of bluefish, Long Island Sound continues to attract and keep large schools or blues for most of the summer and fall months. Bluefish are famous for their feeding frenzies- there are times when it seems that anything you drop in the water gets attacked by these sleek, razor-toothed predators. Furthermore, their fight matches their ferocity. They are strong, acrobatic, and tireless, and great to catch on any type of tackle. The bigger blues get, the tougher they get, and in 1999 several were caught aboard the Mataura weighing over 15 pounds. If you have the appetite, the desire, and the strength, you can often reach your limit- 10 per person of any size.
FLUKE- many seek fluke simply for their delectable taste. However, fluke can provide a great fight for the patient angler (a little experience and skill doesn't hurt either). They are quick and wily, able to spit the hook and swim away if you are not alert. However, once you hook them they can be surprisingly good fighters. Furthermore, fluke fishing is a very good way for inexperienced anglers to get acquainted with the fishing equipment. Skills like dropping your line and "finding bottom", baiting your hook, tying knots, feeling for bites, setting the hook, and ultimately fighting the fish can all be practiced and mastered while fluke fishing. 1999 was another good year for fluke, and it was common to go home with a few large "doormats" in the boat. The legal limit in Connecticut for fluke is 8 per person at least 15" long.
BONITO- Bonito become more common in inshore waters late in the summer as the water warms up. Species include the Green Bonito and False Albacore. They are in the tuna family and resemble tuna in their shape and appearance, though they are much smaller. Generally, they average less than 10 pounds. They are, however, fast and strong swimmers and provide an excellent fight - especially on light tackle. There are currently no size or number limits on any bonito.