The Offshore Charter Trip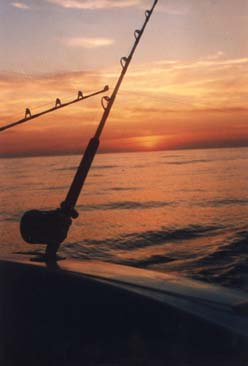 A typical evening sunset in the canyon.
There are two options for Offshore fishing- All Day(12 hour) and Canyon/Overnight Trips. "Offshore Fishing" refers to fishing in the waters south of Long Island and Block Island, where the water depth begins to drop off. This is where you find the larger oceanic fish such as tuna, sharks and marlin. Offshore Trips are a minimum of 12 hours because a lot more time is required to get to and from the fishing grounds (2-3 hours), though the Mataura will get you to the fishing grounds faster than anyone. This is an entirely different experience than Inshore fishing, requiring much greater patience and ability to withstand rough waters. This is the reality of Offshore Fishing, and it is important that people know this before deciding which type of fishing trip is for them. However, for those seeking the thrill of a lifetime at the expense of consistent action, offshore fishing is the right choice. The fish in these offshore waters can grow to be over a thousand pounds- and you never know what might jump on your line. These fish are beautiful, big, strong and at times acrobatic. So, if you are willing to take a risk for the chance of having the experience of a lifetime, come visit the offshore waters aboard the Mataura. We can catch the big ones as well as anyone and better than most.
Click on Methods of Fishing or Types of Fish for greater detail on Offshore fishing trips.
ALL DAY (12 HOUR)- These trips leave the dock at 5am. The two main options for fishing are sharks and tuna, but it is also possible to catch marlin, mahi-mahi, and other fish. There usually is only enough time to fish for either shark or tuna, but depending on the circumstances and communication between the captain and customers, it may be possible to mix it up with a little of both or some bass and blues. Prices
CANYON/OVERNIGHT TRIPS (2-DAY)- These are two-day trips with one overnight. Most customers, when booking overnight trips, want to go to the Canyon (or Continental Shelf). The Canyon is where the water level goes from several hundred to several thousand feet very quickly. This is where you will find Gulf Stream water- it is bright blue, crystal clear, and usually quite a bit warmer than the waters closer to New England. When fishing in the Canyon, exotic fish become much more likely- Blue Marlin, Wahoo, and Mahi-Mahi are fairly common. Furthermore, Yellowfin, Albacore, and even Bigeye Tuna tend to group in greater numbers. When the weather is good, the Canyon waters can provide an amazing fishing experience. However, because of the length of time on the water and traveling for Canyon trips, we request that only people with experience on the ocean in rough seas book these trips. . The days, depending on the conditions, are usually spent trolling and the night is spent chumming for tuna and sharks. Because of the great distance from land that must be traveled to get to the Canyon, we use discretion and monitor the weather closely when planning these trips. If weather does not permit, alternate plans are made to ensure the safety of the passengers. Another option for Overnight trips is staying in Offshore waters and spending overnights at Block Island or Montauk Point, Long Island. Both of these spots are both beautiful and fun, and can provide a fun night out in between two days on the water. Prices